A True System of Family Planning
& A Game Changer!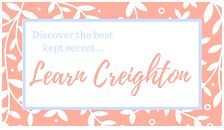 The Creighton Model FertilityCare™ System (CrMS) is a unique model of advanced procreative education. It allows for the first time to integrate family planning with women's health and it accomplishes this in a way that is completely natural and cooperative with a woman's menstrual and fertility cycles.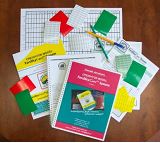 It teaches women a standardised way of observing, describing and interpreting the signs of their fertility each day during routine use of the bathroom. It is a scientifically proven system which uses a prospective and standardised evaluation of the cervical mucus. When routinely charted at the end of every day, the standardised recording of a woman's vaginal secretions gives an accurate account of her days of fertility and infertility and works as a reliable method of natural fertility regulation regardless of cycle length or cycle irregularity. It is easy to learn and easy to interpret.
When a couple decides to use this system of FertilityCare for their family planning, they are working in harmony with the woman's cycle and not suppressing her hormones. This holistic approach may be used throughout a women's reproductive milestones e.g. when wishing to achieve or avoid pregnancy, throughout breastfeeding (total and weaning), post-partum if not breastfeeding, post miscarriage or during pre-menopause (40 years or older).

Charting the menstrual cycle: "My Chart Knows Me Better"!
The events of the menstrual cycle are observed at the vulva when a woman goes to the bathroom. She observes in a standardized way, routinely, at every bathroom visit, every day, and records on her FertilityCare Chart at the end of every day. This creates an accurate picture, like a photograph, of the woman's reproductive system.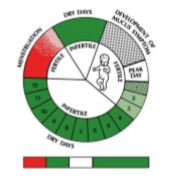 The CREIGHTON MODEL System is charted on a line, with a stamp and a description for each day.

All observations of the biomarkers are external and observed on wiping over the vagina from front to back with toilet tissue. There are no internal examinations involved in using the CREIGHTON MODEL System and no devices such as ovulation monitors or thermometers are needed.
Because the Creighton Model System relies solely on the observation of cervical mucus, these observations have to be done in a systematic and standardised manner so the woman does not miss any mucus discharge. These observations will be very quickly and easily incorporated into her daily hygiene routine.
Now, because the woman is the one responsible for the observations, her husband is encouraged to take responsibility for filling out their fertility chart at night; in this way, the responsibility for their family planning is shared.
Incidentally, it has been found that couples who share the responsibility for charting (recording) the woman's daily observations, generally have a more intimate marital relationship. And why wouldn't they if they are discussing the most intimate aspect of their relationship every night as they go to bed. Every night, they know whether they are fertile or not and can mutually decide there and then to try for a baby or not.
……Now, wouldn't that be a blessing for any wife, to have her husband share the responsibility for building their family and not to be the one to blame if they have an unexpected pregnancy.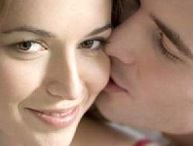 When a couple mutually decides to HAVE A BABY, they should engage in sexual intimacy and have intercourse (I) on the fertile days.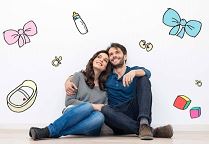 AND:

If their intention is to AVOID or POSTPONE a pregnancy, they need to avoid all genital contact on the fertile days and only have intercourse on their infertile days as seen by the recordings of "I" on the chart below.

With the CrMS, the couple knows every day, whether that day is a fertile day or a non-fertile day. And that's a GAME CHANGER!
Pre-pregnancy care:
If a woman is planning a pregnancy, she is encouraged to prepare for it several months beforehand by taking a Folic Acid supplement. She should also check her Rubella status, Full Blood Count, Vitamin B12, Folate, Vitamin D3 and her thyroid hormones levels (TSH and free T4). If her FertilityCare™ chart indicates abnormal biomarkers, a referral to a NaProTECHNOLOGY Medical Consultant is recommended so as she can benefit from an in- depth evaluation and be treated pre-conceptually.
The CrMS & SPICE
With the CrMS, couples also learn how to "Spice-up" their relationship! They are encouraged to develop the different dimensions of their relationship, not only the physical one:
Spiritual
Physical, Psychological
Intellectual
Creative, Communicative
Emotional
This allows for healthy relationships and lasting marriages!
Woman's Health & Fertility
As the CrMS is a system of routine daily observations and charting, it facilitates the evaluation of the biological markers which reflect a woman's health and fertility. For this reason, the Creighton Model FertilityCare™ chart is a vital tool in the monitoring and maintenance of a woman's gynaecological health and in the diagnosis and treatment of infertility and miscarriage using NaProTECHNOLOGY®, the new non-invasive approach to restoring normal reproductive function.
The advantages of the Creighton Model System
It is medically safe, proven to be reliable, it's natural and co-operative, it's a shared system between the spouses, it dates pregnancy accurately by dating it from conception (foetal age) rather than from the last menstrual period (gestational age), and it's morally acceptable to all faiths and none.
The FertilityCare teacher
You might already have a gym instructor or a fitness coach but what about a FertilityCare teacher? Wouldn't that be even more important? Learning from a teacher how to track and understand your menstrual cycles and your fertility early on will empower you as a woman and as a couple. And the CREIGHTON Model™ is so much more than just learning how to track your cycles! It is an INVESTMENT IN YOUR HEALTH and a WAY OF LIFE! It provides you, as a couple, with a standardised charting system that can be used very effectively to ACHIEVE or AVOID A PREGNANCY throughout your reproductive lives and to monitor your WOMAN'S HEALTH.
Since it is women who have menstrual cycles, The CREIGHTON MODEL Fertility Care™ System concentrates on teaching women to understand, appreciate and take care of their fertility; it is taught by trained allied health professionals known as CREIGHTON MODEL FertilityCare Practitioners. See www.fccirl.ie & Our Team- Practitioners and Educators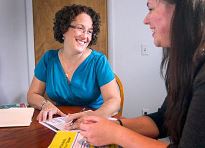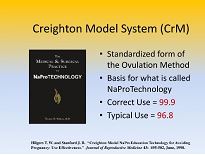 With FertilityCare Education, there are no pills, patches, shots or barriers coming between me and my health, or me and my marriage!